If you've come to this site before, you know we are big fans of the mk802 series from Rikomagic, in particular the mk802 III, which is currently the device I currently use to make my regular HD TV a smart TV. These smart TV Android sticks feature an HDMI port, super low consumption CPUs, and decent performance, which allows users to use them as a Smart TV (with support out of the box for Netflix, youtube, etc…), but also do more with them (use them as an ftp server, a bittorrent client, a retro gaming machine,…)
With time, Rikomagic has become one of the few respectable brands in the field of Android Smart TV, those min PC that turn your regular HD TV into a smart TV.
Rikomagic has now announced a fourth version of their now famous MK802 brand, the mk802 IV. This new device will run on the Rockchip 1388 chipset, with a Quad core CPU and Quad Core GPU, running at 1.8 GHz (that's probably, if their advertising is consistent, 1.4GHz for the CPU, and 400MHz for the GPU, which is a Quad core Mali 400). It will have 2GB Ram, 3 USB ports (one being for the sole purpose of powering the unit), integrated Blutooth support, and 8GB of internal flash (plus the usual Micro SD slot). Full specs below:
*CPU: Rockchip RK3188 quad core Cortex A9
*GPU: Mali-400MP4
*System Memory – 2GB DDR3
*OS: Android 4.2 OS
*Storage – 8 GB internal flash + micro SD slot (up to 32GB)
*Connectivity – Wi-Fi 802.11 b/g/n
*Bluetooth: Built-in
*Video Codecs – VP8, AVS, MJPEG, RV8/9/10, H.263, H.264, VC-1, MPEG-2, MPEG-4, DIVX
*Video Container Formats – AVI, RM, RMVB, PMP, FLV, MP4, M4V, VOB, WMV, 3GP, MKV, ASF, 3G2M4V.
*Audio Codecs/Formats – MP1/2/3, WMA, OGG, AAC, M4A, FLAC, APE, AMR, RA, WAV.
*USB – 1x USB Host 2.0, 1x micro USB for power, 1x USB OTG
For those of you who own an MK802 IIIs, the major differences with this previous model are the faster CPU and support for Google's latest and greatest Android 4.2. Possibly a good software improvement if Rikomagic didn't mess up their Android 4.2 integration.
For those like me who own a MK802 III, the jump is a little bit more interesting: faster Quad Core CPU on the MK802 IV, and new Android 4.2 of course, but also the integrated blutooth make it a welcome improvement.
For those of you who are still running on one of the older revisions (MK802, MK802+, or MK802 II), the MK802 IV should be a no brainer. We've seen with the MK802 III that a dual core (or, in this case, quad core) CPU turned a "nice proof of concept" (the original MK802) into a production-ready smart TV which does a lot for a minimal price and low consumption.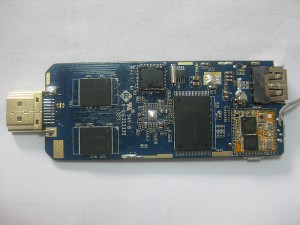 The question is, will the new Rockchip 1388 in the mk802 IV use as little power as the previous CPUs used in the mk802 series, and will rikomagic handle the software support of android 4.2 correctly?
Stay tuned!