Smart TV Boxes running Android are much more frequent nowadays than when we started this website, with new ones coming every day. Today I'm reviewing the CR13, a quad core Android box that supports Ultra HD (4K) video.
I've been using the CR11/s android box for exactly a year now, from the exact same company. The CR11/S is a very solid TV Set top box to make a smart TV out of your regular TV. How does the CR13, a new model that packs more power, compare to the CR11, and other TV boxes? Let's find out.
The CR13, on the paper, is a nice update from the CR11/S. It ships with the new RK3288 CPU from Rockchip. This CPU includes an ARM Cortex 12 (some sources say it's a Cortex 17 but early tests say otherwise), and a Mali T-764 GPU. If those don't mean much to you, let's just say that they add a significant boost of performance compared to the RK3188 CPUs from last year's models. Long story short, HD Movie files and demanding 3D gaming definitely benefit from this.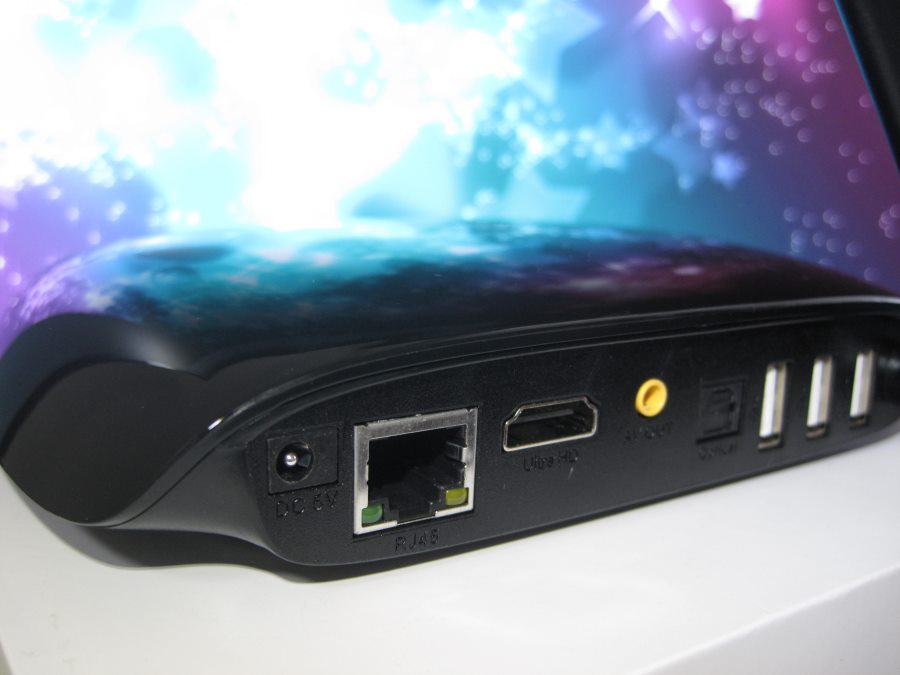 Specifications
(From the manufacturer)
Model# : Cloudnetgo CR13
CPU RK3288 Ultra Quad Core
Main Frequency Cortex-A17 Up to 1.8GHz
GPU Quad-Core 2D/3D OpenGLES2.0 Mali T-764

OS Android 4.4
RAM 2G DDR3
Memory Flash 8G
WiFi Wifi 802.11 b/g/n/ac 2.4G/5.8G
Bluetooth Built in bluetooth 4.0 version
Camera Built-in 2MP/5MP Front Camera
Microphone Built in Microphone
Expand Micro SD T-Flash 2G,4G,8G,16G,32G(Maximum support 32GB)
Ports UHD(Mate),TF card ,3 USB host, RJ45, Optical ,3.5mm AV out , DC port ,LED
Accessory UHD cable,USB cable ,User Manual, Power Adapter, IR RC
Unit Size(mm) 165*115*33MM
Where to buy
The cloudnetGo CR13 Can be bought on Aliexpress here.
I am not affiliated with Cloudnet in any way but have had no problem dealing with them so far on Aliexpress. Please note that the device used for this review was sent to me by them as a free sample.
unboxing
The Cloudnet go CR13 comes with a USB cable (useful but I got dozens of these), an A/C adapter (5V 2A, more on this later but it's good they included it, not all of these Chinese TV Boxes ship with it), and more importantly, a remote controller (most of the Android dongles I've reviewed didn't come with one).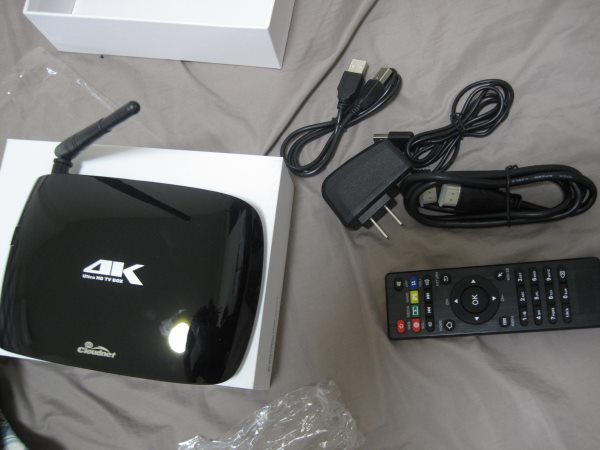 The TV Box itself looks pretty good, is much bigger than dongles such as the MK802 Series. This is to accommodate for the may ports that comes with it: 3 USB ports, an RJ45 port, an SD Card slot, the typical HDMI output of course, but also an optical audio out and an old-fashioned 5m AV out port. As a matter of comparison, it is slightly bigger, especially in height, than the recently released amazon Fire TV.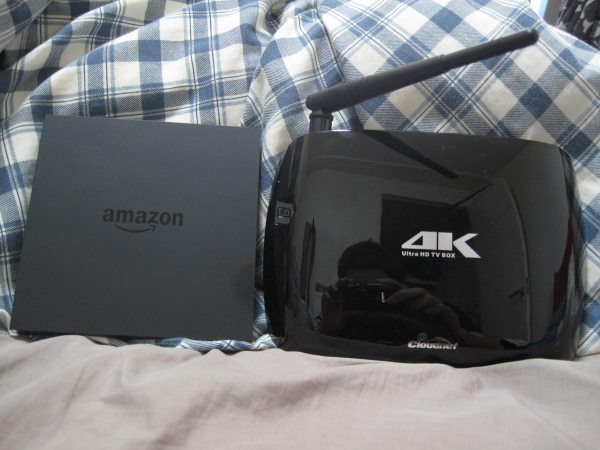 In addition to all these, the device has a built in microphone and video camera. It also supports bluetooth. Last but not least, there's an external Wifi antenna. Those of you who have owned an Android "dongle" mini PC in the past know that this can help.
First impression and the remote
If you've ever had an android tablet, or an Android mini PC before, there's no surprise. plug the HDMI cable to your TV, the power adapter to the CR13, and within 20 seconds you're on the main screen, a vanilla Android 4.4 with a few preinstalled apps.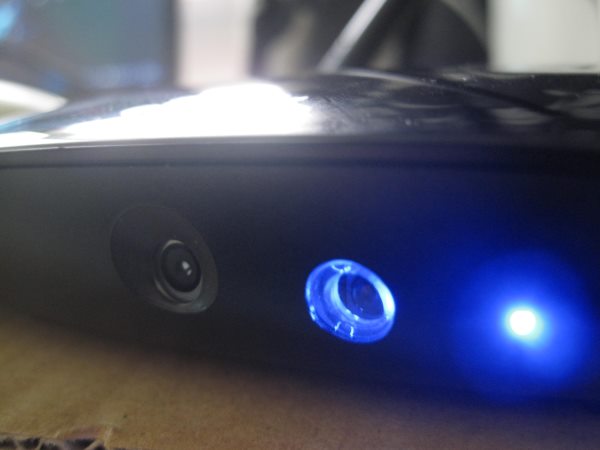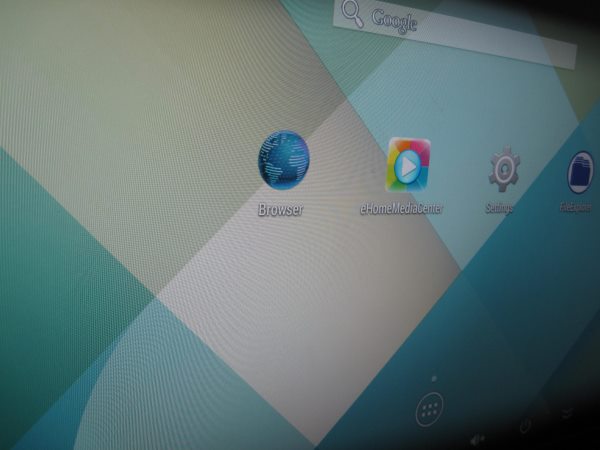 Worth mentioning is that the CR13 boots relatively faster than previous Android dongles I've had. We're getting closer to 15/20 seconds, while the previous generation was closer to 30 seconds of boot time. Everything works out of the box as far as the OS is concerned, but you'll probably want to install your own Android apps (Netflix, etc…) to make the full use of the box. Google's play store is installed by default and works fine.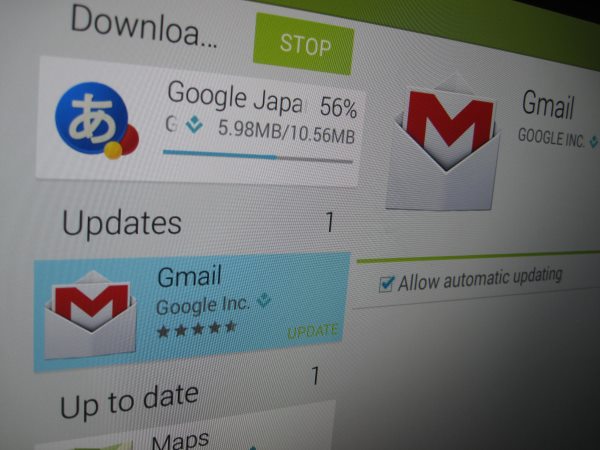 The included remote controller is ok to use for basic interaction with the box (select an application and run it, navigate through movies in netflix or xbmc, etc…) but will be a pain if you intend to use it for typing text: browsing the web, typing an email, entering a username and a password, all of this becomes extremely painful. Overall, you'll quickly want to switch away from the remote, and use your own keyboard/mouse/air mouse, or whatever floats your boat. It is awesome that CloudnetGo include this in the box, because it means the device really works "out of the box" without the need for any additional hardware, but in reality you'll want something else to control the box.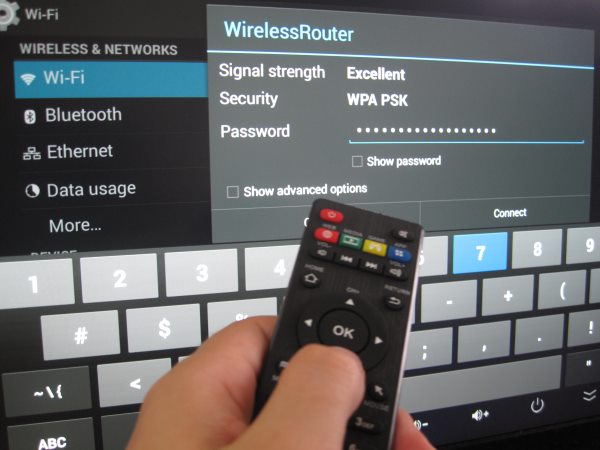 In the end, I think the remote controller can become a very useful device once your box is all set up, with all the apps you need installed and configured, and assuming you only want to use it as a media center for Movies and Music, but do not plan to use it for browsing the web or playing games. But if you plan to use the box for more than movies and music, you'll need more.
Thankfully Android lets you use a wide variety of input devices (keyboards, gamepads, air mouse, etc…), and I was quickly able to use both the logitech K400 (an excellent and cheap keyboard with a touchpad, our input device of choice in the living room for more than a year now) and the rikomagic mk 702 II, an air mouse which has the benefit of being extremely compact AND have IR support as well (my review of the mk702 II).
It is worth noting that the remote controller lets you turn the device on and off, but it actually only stops the video signal, without really putting the device into some "sleep" mode. It clearly doesn't turn the whole device off, so I am not sure if it is really useful.
I haven't tried the default applications much. A few of them are probably good and let you use the device for things like Airplay, DLNA, and miracast, but I haven't dug into that much: I have my own favorite apps for video and sharing, and that's the ones I tried first. Again, this is Android so the choice is yours, you can use the default applications, or uninstall them and use others you are more confident with. The video app, at least, felt pretty useless to me, as it didn't offer any way to search or classify videos, which made it impossible to use as soon as you have more than a dozen movies or tv shows.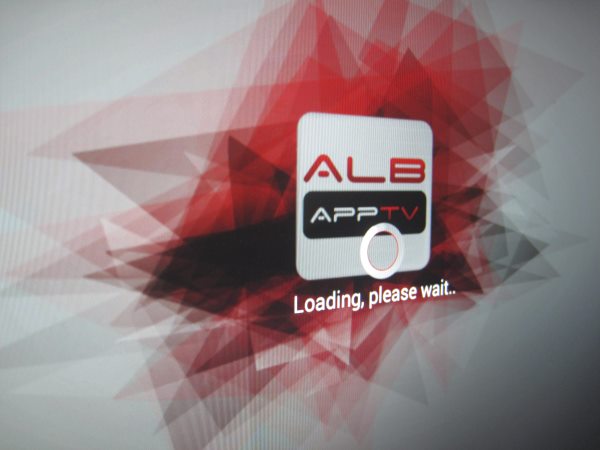 From all aspects, the CR13 looks like the direct successor of the CR11: same box, more or less the same features, except the CPU and GPU are much more beefier.
Movies and network
The first thing people will want to do with a TV box like this one is watching movies. I'll use the opportunity to mention that the Wifi signal of the box was fairly decent, but after a while I switched to a LAN cable that felt more comfortable to me. Most people should be fine with Wifi from what I can tell, with the antenna guaranteeing a reasonable signal strength.
The latest version of Netflix from the play store worked out of the box (note: I live outside of the US so I am using unblock-us to access Netflix US. Totally worth it, and my unblock-us tutorial for Android works for the CR13) and I was able to stream a full episode of "Ninja Go"  in HD with my son, and "Team America" without a single lag or graphical glitch. Bottom line, hardware acceleration seems to be working fine, something important to note since many Android set top boxes have had issues with Netflix in the past.
In the past, MX Player has been my video player of choice for Movies, in particular HD, on rockchip powered Android boxes. I actually prefer XBMC for its awesome and gorgeous interface, but XBMC hardware acceleration historically did not work well on Rockchip CPUs (see here for my solution in the past which consisted in using XBMC to manage my library, and couple it with MX player as the actual video player).
Well, I'm glad to report that XBMC actually works perfectly fine on the CR13, as long as you make the right setting changes: The CR13 I received shipped with a relatively recent build of XBMC, a gotham nightly build from august 2014. This has hardware acceleration enabled. And I can confirm that 1080p ran perfectly fine for me on the CR13, which was definitely never the case on the previous generation's CR11. However, in order for it to be fully stable, I had to deactivate the "MediaCodec" acceleration. I explain how it is done here.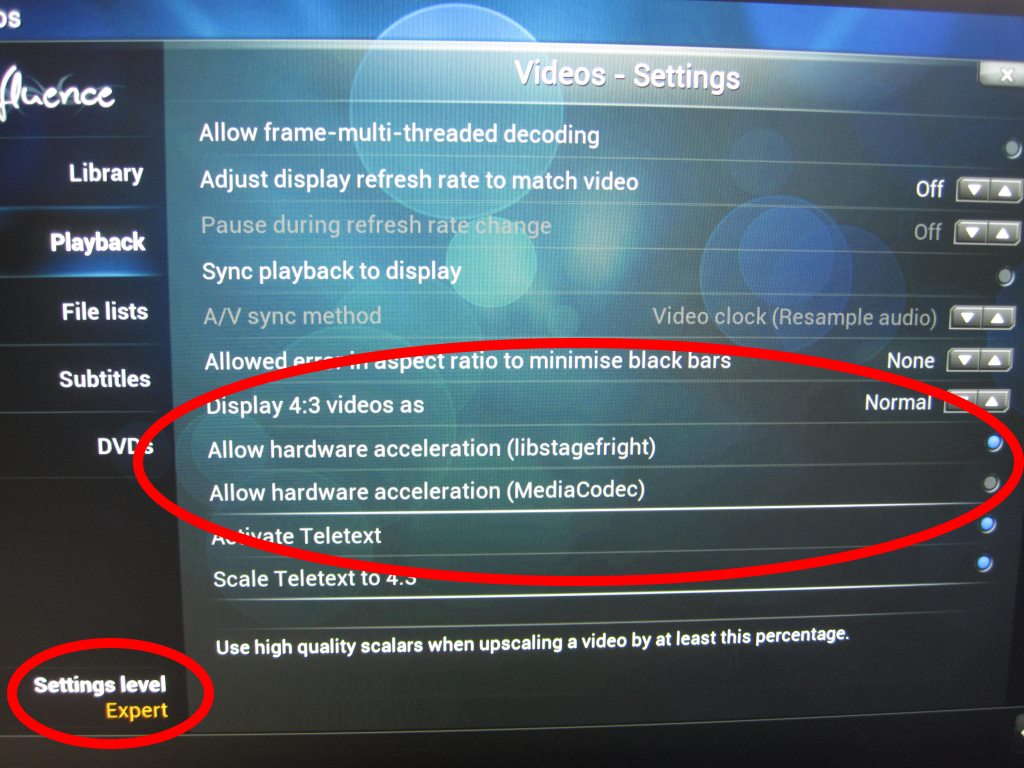 Because XBMC is working so smoothly on this box, I installed MX Player but I have to admit I didn't even try it. I believe I'll stick to XBMC for now because that app is so gorgeous and useful.
Today XBMC is my media library of choice on the CR13, and I coupled it with this 2TB Hard drive connected through one of the USB ports, hosting my collection of hundreds of movies and TV shows.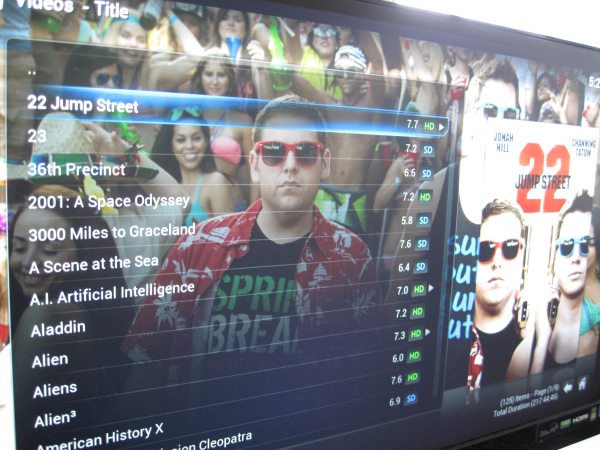 It is also worth mentioning that the RK2388 is one of the first CPUs that allows smooth playback of 4K videos on such low power devices. It's a pretty big deal for many movie fans. unofficial builds of XBMC are already made available by rockchip themselves, that guarantee the best experience. This should not be overlooked, and could be the main selling point for most people.
Amazon recently made their Amazon Instant Video offer available on Android. In order to get it to work though, I had to sideload (using ES File Explorer) the phone apk of the Amazon app. The CR13 is recognized as a Tablet, and as such, if you try and get the Amazon app from the google play store, you'll end up with the tablet app (which for some reason does not support amazon Instant video yet…).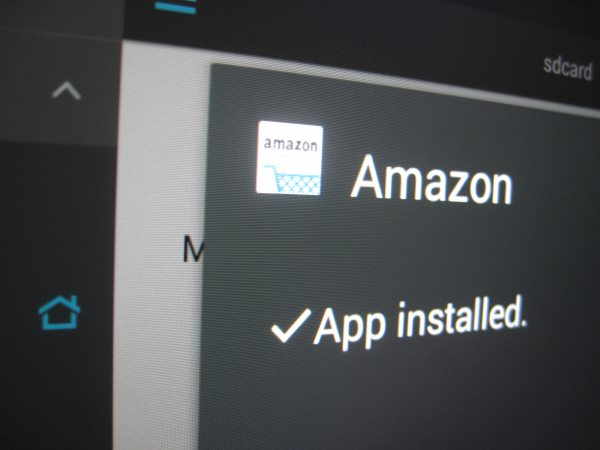 Once the phone app was sideloaded, I tried to play a video, had to install an additional app from Amazon (which worked seamlessly), and I was ready to play Amazon videos on my Android box. Amazon restricts those videos to SD for now. This is not a limitation of the box, but of the Amazon Instant Video offer on all Android machines.That sucks. Additionally, I had significant lags here and there while streaming one of my movies on the CR13. I believe the issue here is on the CR13, because I had no problem with the same video on my CR11. I'll get back to this, but it seems the CR13 has some performance issues when it comes to writing to its internal memory, so I think it took a toll on the amazon playback while the Amazon app was trying to cache the movie. Why I did not have this issue on Netflix is beyond me. Bottom line, Amazon Instant video is not in a state that I consider "usable" on the CR13. But given that it wasn't even available last time I tested an Android set top box, I wouldn't consider this a blocker to buy the device, for now.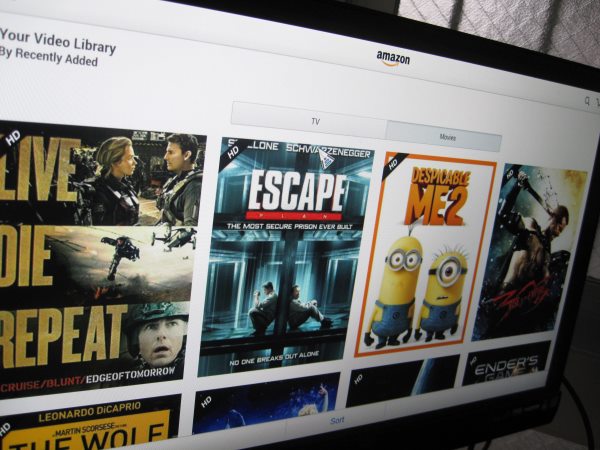 I've also installed, of course, Youtube. A home media center today would not be complete without it, and, as expected, it worked great on the CR13, without any perceived lag when playing HD Video.
I also used Cheapcast, an app which lets you use your Android TV Box as a Chromecast. To give an example, I am able to browse youtube on my android phone, and send a video to play directly on the TV Box. It is also possible to enqueue videos and connect several phones at a time, which promises some fun with friends and family. I'd go in depth about why Cheapcast rocks and how this is totally different (and way better) than Airplay, but just read my review here for details. Unfortunately, I found that reading Youtube videos through cheapcast on the CR13 led to weird color artifacts on videos. It made the app pretty much unusable.
Music
The typical music applications work perfectly fine on the CR13. However I've had small issues streaming music from the cloud with Amazon MP3: probably for the same storage read/write performance issues that I mentioned above with Amazon Instant video, playing an mp3 from the cloud led to some weird stuttering as Amazon's app tries to pre-cache the current song and the few next ones. It gets better after the first song, but I find it not really acceptable that writing such a small thing as an mp3 file could impact the performance. I have contacted CloudnetGo about this, to see if they know about this issue and if it can be improved. I'll try to move the app to the external SD and see if it helps, then update this article.
I haven't tested the optical audio out.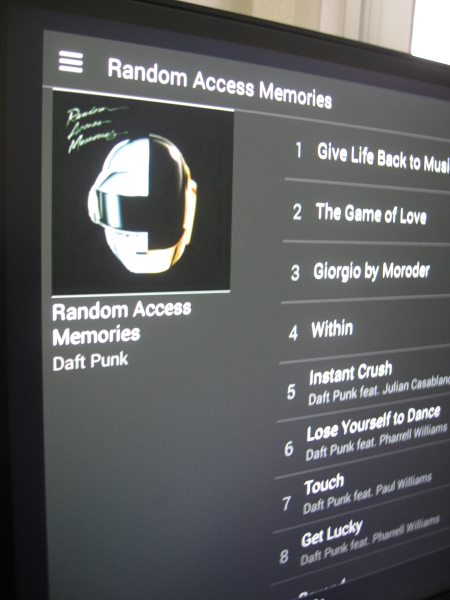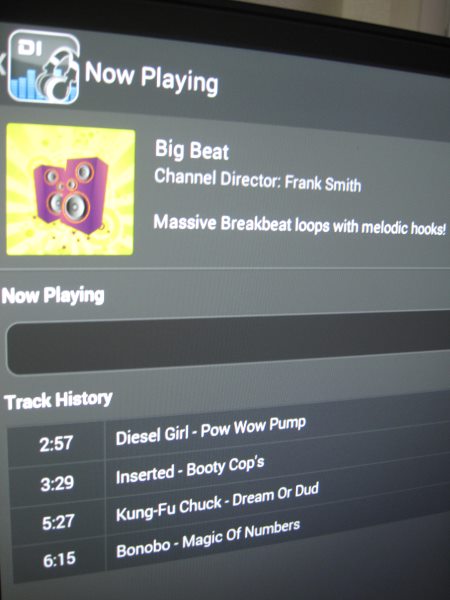 Video games
I have not tried video games yet on this device. Will update this review if and when I do. I hear that with the new Mali GPU, games should run at a great speed. See the Antutu benchmark results below.
Camera and Microphone
I quickly tested the embedded camera and microphone through Skype. They work fine. Both sound and video quality are more than enough for a skype call.
Honestly I will not be a user of these features (and I've stated that for the CR11 as well). The TV box is not meant to me to be used as a skype device, but depending on your use case it can do as a cheap video-conference system. I just feel awkward sitting so close to my big TV screen just to have a Skype conversation, but maybe that's just me. It also limits where you are going to put the box, you can't put it behind the TV, as you'll need a place where the front of the device can "see" you.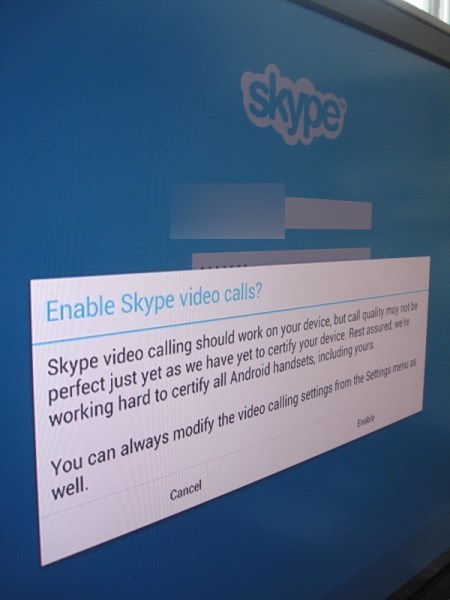 Again, not my thing, but the microphone and camera are here, and they work fine with Skype.
Other Apps
One of the great things with Android is that it is a full fledged Operating System, with close to no limitation. This is what to me makes those little boxes so great compared to, among others, the Roku, the Apple TV, or the Chromecast.
Although I haven't tried my favorite bittorrent client yet, I could confirm that my typical apps worked fine: a live wallpaper named "inferno", an FTP Server (useful to copy files to the box from any machine in the house), ES File Explorer (to manage my files as well as sideload apks), email, calendar, etc…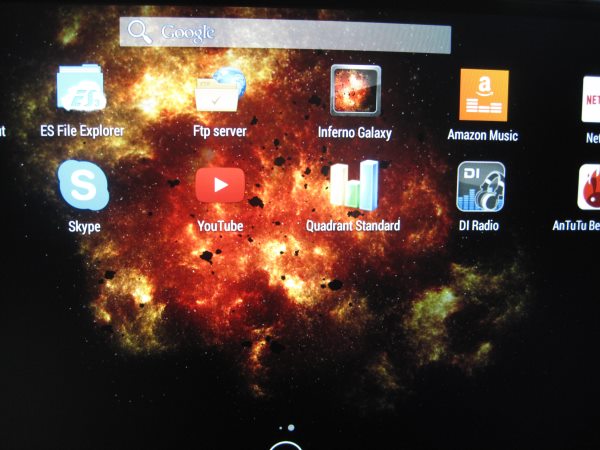 Raw performance
The initial impression of the CR13 is very good. It clearly has better hardware power than last year's CR11, and I was super happy that I could play HD movies on XBMC out of the box. 3D is said to be exceptionally good too, but I have yet to test many video games to confirm that. On the other hand, the "internal storage writing" being slow has impacted some of my experience, while listening to music for example. That part is disappointing given that the rest of the hardware seems to be extremely capable.
Quadrant refused to run on the device, but Antutu gave the following results: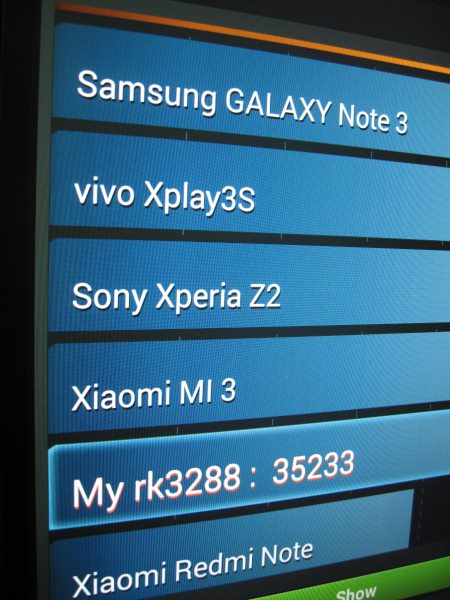 The CR13 is fairly close to a Xiaomi MI 3 which makes it a very decent device in terms of performance, in 2014/2015.
Power and energy consumption
The CR13 ships with a 5V/2A ac adapter. In my tests, this was enough to power an external USB Disk as well as the signal for my remote keyboard, not mentioning the device itself. Overall, the CR13 felt like a very stable box with its default AC Adapter, which is not always the case for these android set top boxes.
Accessories
I have been able to use the following accessories successfully on the Cloudnet go 13. If you have other suggestions of working peripherals, feel free to comment below 🙂
Comparison with the competition, price, and conclusion
Many Set top boxes today are available for less than $100. The CR13 is priced a bit above the average, and makes my final decision not so obvious. People who like the flexibility of a vanilla Android box, and don't mind a bit less power, could want to use the older model CR11, which can still be found. People who want the convenience of a big brand (with less flexibility) will want to try the Amazon FireTV or a Roku instead.
However, the fact that I finally found an Android box that supports XBMC fine (without heavyweight manipulations or compromises) is a great point in favor of the CR13. Additionally, people who are into gaming or demanding applications will really appreciate the additional CPU and GPU performance. If the box was a bit closer to the $100 price point, I'd recommend it without hesitation.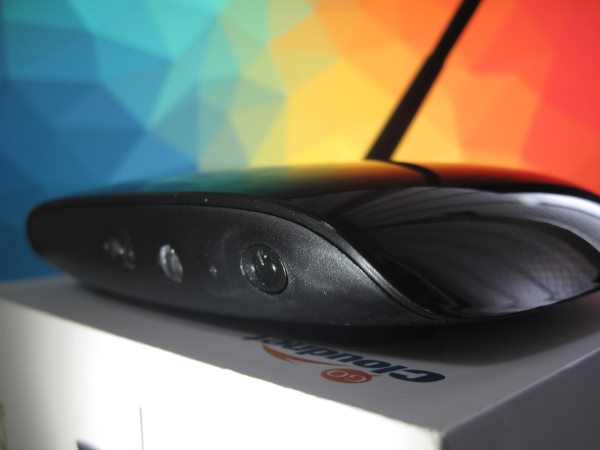 Pros
Powerful CPU and GPU
The "vanilla Android" install that we love for flexibility
Good design, the box doesn't look "cheap" and feels right in the living room
Awesome box for XBMC, with great hardware acceleration
One of the first low power consumption boxes that lets you play 4K video smoothly!
Cons
A bit expensive: the competition is below the $100 level today
Internal storage read/write seems slow, and this impacts overall performance (when contacted, the Cloudnetgo team told me they are working on a fix for that, so this should be fixed in the next firmware revision hopefully)
Disclaimer: MakeSmartTV.net is a participant in the Amazon Services LLC Associates Program, an affiliate advertising program designed to provide a means for sites to earn advertising fees by advertising and linking to Amazon.com