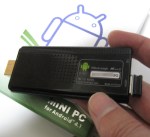 The MK802 series are Mini computers the size of a USB key, that plug in to the HDMI port of your HD TV, and make it a smart TV. I've owned an MK802 Clone for the past 6 month, and this has become my main multimedia device at home since the day I got it. Sadly, it had a few limitations (especially, performance issues for everything that was not movies or music) which prevented me from fully enjoying it. Today, a friend got me an MK802 III, and I am happy to say it fixes all the issues I had with the MK802.
Well, I am not good at suspense, so let me start by simply saying that the MK802 III is the best device I've found to turn my TV into a smart TV, and I do plan to use it as my main multimedia device in the living room from now on, where it will be replacing my MK802 (first generation), and potentially my PS3 (at least for multimedia functionality).
This review will be mostly oriented as a comparison with the MK802. For those who don't know this series of devices, here's a quick summary: the MK802 and its clones are low consumption android mini computers. They easily fit in the palm of your hand, and are no bigger than a big usb stick. You'll find mention of those as "droid stick" or "droid hdmi stick". In addition to the low consumption, they are completely plug and play (you literally plug it into your TV with an HDMI port, and your TV screen starts running Android within seconds), and also extremely cheap (as low as $40).
The first generation of MK802 was very good for the price, but it also had some drawbacks. "What would you expect for $40" is what I've been told several times, but honestly for the price I was still quite impressed. The original MK802 was doing very well at playing HD video in various formats (I'll talk later about my favorite apps on these devices), even highly demanding MKV videos, thanks to the Mali400 GPU integrated in its core. Sadly, the CPU itself is not really powerful (a single core Cortex A7 running at a bit less than 1GHz), and this made simple actions such as checking your email or browsing the web extremely slow and painful. Overall, the first generation of MK802 was very good if your only goal was to watch your local video files and Netflix, but not recommended for other things such as browsing the web, checking your email, or playing video games. You can read my full review of the first generation of MK802 here.
The MK802 III fixes all the issues I had with the MK802, which to me makes it the perfect device to turn my TV into a smart TV. It is not without issues, but so far the ones I've found are minimal (see below)
Price and where to find it
The MK802 III can be found on various online stores, such as Amazon and AliExpress. I would recommend Amazon given the solid reputation they have, but prices on AliExpress are usually cheaper, and I've never had any trouble ordering with them (it's a subsidiary of Alibaba, one of the biggest online retailers in China, with a solid reputation). Prices are around $70, but can vary a bit depending on the seller, the amount of internal memory, and options.
Note that on both Amazon and AliExpress, you might end up with a clone of the MK802 III. This is usually not a problem (the MK802 itself is built with fairly generic components), but be sure you are not paying for an old generation. In particular, check the amount of RAM (should be 1GB), of internal memory (personal preference for 8GB), and make sure the CPU has a dual core.


(buy from Aliexpress with the image above)
Packaging and device, First impressions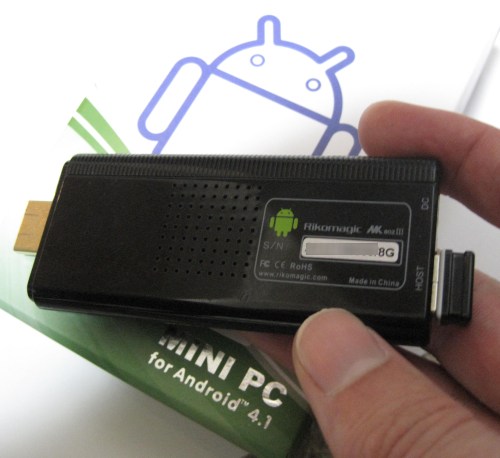 The MK802 III ships with an HDMI adapter. Unlike its older brother, it directly has a male HDMI port integrated, which will allow you to plug it directly into your TV, assuming your TV's ports are not too close one to each other. If, like me, your TV's layout prevents you from plugin the MK802 III directly in, then that's what the adapter is for. It's basically just a female-male HDMI cable.
The device itself is the size of a big usb stick. Technically, those are the smallest computers in the world, and if you're a geek like me, so much power in such a tiny device for such a reasonable price will probably make you tick. Like the previous generations, the MK802 III has 2 usb ports: one regular usb port, and a mini usb port. Sadly, the mini usb port is reserved to power the device. It needs to be mentioned that the package does not necessarily contain an A/C adapter to plug to the mini usb (it's an option), so you might have to provide that yourself. These can easily be bought for cheap, or you can probably reuse any of your existing adapters if you happen to own an Android tablet or phone.
Overall the device feels pretty solid given its price.
First use
Plugging it in the TV is easy as pie (plug the power, plug the HDMI cable, you're done), and after using it for a few minutes, those of you who had a try with older generations of such droid sticks will feel an obvious difference in speed. Everything is smooth, including the browser and the mail client, and if it's your first time trying to make your TV a smart TV, the HD Android output on your TV simply looks gorgeous.
One point that newcomers have a hard time to understand is how an Android device can be controlled without a touch screen. This is where you will need either accessories, or special apps. This sounds difficult, but it really isn't. If you don't have anything else, you can plug a usb mouse in the usb port. Alternatively, apps such as DroidMote exist to control the device from your smartphone, or, my personal recommendation is to go with a wireless keyboard with an integrated touchpad. I am personally using the Logitech K400, and will be reviewing it one of these days. I recommend it given its relatively compact size and for the integrated touchpad, which makes controlling your smart TV from your couch very easy.
Video performance
I have successfully tested the following video apps on the MK802 III: Netflix, Youtube, MX Player. They all work perfectly.
Those of you who have read my review of the previous generation MK802 might remember I had audio sync issues with youtube. These issues are completely gone with the MK802 III, although one of the issues I am running in with youtube is that for some reason I can't go full screen. I have yet to figure that out, but I consider this a minor issue for the following reasons: first, I my TV is big enough, and the youtube App has a layout good enough that even in windowed mode, the video uses a good third of my screen, which is good enough to me for most youtube videos(Edit: this was a bug in the Android youtube app and got fixed).
Netflix works perfectly, although I had to sideload version 1.81 of the apk, as Google Play says the application is not compatible with the device. I have heard that versions beyond 1.81 are indeed not compatible with the MK802 series, but I have yet to test and confirm that. By the way, if you live outside of the US, check my article on how to watch US Netflix from any country on your android smart TV .
MX Player, finally, worked perfectly out of the box. Here too I am seeing a massive difference compared to the MK802 first generation, as MX Player's audio settings needed to be tweaked in order to avoid audio/video sync issues on the previous models. No such issue on the MK802 III, which to me makes it a 5 stars out of 5 for Video
Internet and Games
The MK802 first generation was basically unusable for anything else than Video. In particular, the browsing experience was painful because of the poor CPU performance. The MK802 III ships with a RK36066 CPU, which is not that much higher frequency than the MK802's Allwinner 10, but has a dual core, and that seems to mean a whole world when it comes to performance.
Your typical Gmail app and various browsers (Chrome, or the default Android browser, etc…) are perfectly responsive. Flash support seems ok from the few tests I've done, but don't quote me on this.
Speaking of the browsing experience, I need to mention that I had no connection drop issues with the Wifi, unlike what has been reported in other places. The MK802 III supposedly has an antenna which is not as good as the one in the old MK802, but I didn't experience this. As a matter of fact, it felt more like the Wifi was fighting for resources with the CPU on the MK802, which I do not experience on the MK802 III. So, overall, the Wifi experience seems smoother. For those who still prefer a good old LAN connection, this is a possibility on the MK802 III, if you use a Lan-to-usb converter (and you will most likely need a usb hub as well if you do this, see below).
I have successfully used the MK802 III as a bittorrent client with an app named ADownloader, and also as an FTP server for my house. There are many FTP Server apps for Android in Google Play, but my favorite one is simply called FTPServer, and it is free. It is marked as "not compatible" in the Google Play store, but the author also hosts the apk file on his site, and that works completely fine.
Games with small requirements such as Angry Birds work smoothly, while high end 3D games still struggle a bit. This is clearly not a gaming device, but if you're into casual gaming or emulators of old consoles, this will probably be good enough
Issues (?)
Here are the issues I ran into using the MK802 III. Overall I think all of them are minor, but this might depend on you.
Lack of usb ports: the previous generations had a special input for the power adapter, so the 2 usb ports could be used for actual usb devices. The MK802 III only has one usable usb port, as the other one (the mini usb) is reserved for power. It turned out not to be an issue for me, as I only need one usb entry for the dongle of my wireless keyboard. But if you need to plug several usb devices to your MK802 III, a usb hub will work fine.
No Linux support: One of the selling points of the MK802 was that people who wanted to tinker with it could install Linux on it if they wanted to. People are hard at work to make Linux happen on the MK802 III, but because the CPU is completely different from the MK802, this is taking some time and hasn't happen yet
Those issues I think are not a "purchase blocker" in any way for me, but I'll let you judge
Conclusion
The MK802 III fixes all the issues that the first generation of MK802 had, and it makes it a highly recommended device to turn your TV into a smart TV for less than $100. I have successfully used the MK802 III as a media player (local files as well as Netflix and Youtube), but its low consumption also make it an ideal bittorrent client or FTP server, that you can constantly leave turned on without fearing for your electricity bill. Finally, the small size factor is definitely a plus if you (or your wife? That's my case 🙂 ) are tired of seeing so many huge and noisy devices (cough, Blu ray player, XBox,…) in your living room.
Recommended Accessories
(for any droid stick, but I have tested those with the MK802 III)
If you enjoyed this review and are considering buying an MK802 III, thanks in advance for using my affiliate links on either Amazon or AliExpress.
Disclaimer: MakeSmartTV.net is a participant in the Amazon Services LLC Associates Program, an affiliate advertising program designed to provide a means for sites to earn advertising fees by advertising and linking to Amazon.com