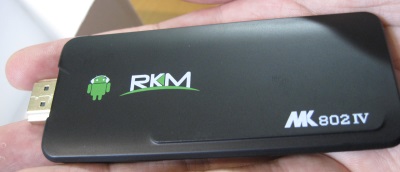 The MK802 series are mini computers the size of a usb key running Android, that connect to your TV with an HDMI cable.
This turns your TV into a smart TV for a minimal cost and at an extremely low power consumption. These Mini PCs can be used as HD Media Players, retro gaming consoles, bittorrent clients, ftp server inside your house, etc…
Rikomagic launched the trend last year with the MK802, a tiny device which, for less than $100, brought Android to your TV and could make it a smart TV out of the box. Many copycats followed, and these Mini PCs have since then improved in performance. The MK802 III released last year, with its Dual core CPU, made a huge difference, and turned what was just a funny geek trend into one of the best set top boxes out there.
This month, Rikomagic released a new revision of their box, the MK802 IV.

For less than $90, the device packs a quad-core CPU, 2 GB of DDR3, and a Mali GPU, the same that can be found in all the MK802 devices so far. Full specifications of the MK802 IV below:
*CPU: Rockchip RK3188 quad core Cortex A9
*GPU: Mali-400MP4
*System Memory – 2GB DDR3
*OS: Android 4.2 OS
*Storage – 8 GB internal flash + micro SD slot (up to 32GB)
*Connectivity – Wi-Fi 802.11 b/g/n
*Bluetooth: Built-in
*Video Codecs – VP8, AVS, MJPEG, RV8/9/10, H.263, H.264, VC-1, MPEG-2, MPEG-4, DIVX
*Video Container Formats – AVI, RM, RMVB, PMP, FLV, MP4, M4V, VOB, WMV, 3GP, MKV, ASF, 3G2M4V.
*Audio Codecs/Formats – MP1/2/3, WMA, OGG, AAC, M4A, FLAC, APE, AMR, RA, WAV.
*USB – 1x USB Host 2.0, 1x micro USB for power, 1x USB OTG
The MK802 III is so far our favorite mini PC, will the MK802 IV confirm this trend? Let's find out! We will try to review this device fro both the point of view of a "new" owner who's never owned an Android Mini PC before, and from the point of view of people who've owned on of the MK802 devices (or similar android hdmi sticks) before
Important Warning
We did most of the testing on the initial firmware that shipped with the device, Android 4.1. In order to test the upgrade process, we went to firmware 4.2, which introduced major Wifi issues. These made the device pretty much unusable, despite that new firmware introducing support for XBMC. Currently, it is recommended to stay on 4.1. Read the review accordingly (although we've updated the review to reflect that)
Unpacking and first impression
The MK802 IV is a bit bigger than a standard usb key, thinner than a pen, and roughly the same size as its predecessor, the MK802 III. In terms of design, Rikomagic are stepping their game up, as the MK802 IV is so far the slickest MK802 model ever, and will not look awkward in your living room (the same could not really be said of the previous models, which looks geeky in a nice way, but also cheap)… although to many of us that doesn't matter much as it will stay behind your TV, so small that nobody will ever notice. But overall, let's say this would make a nice present for friends or family who want to make their TV smart.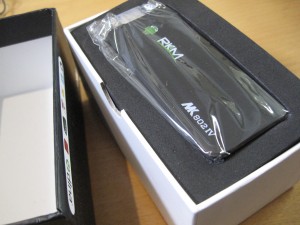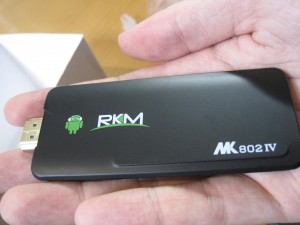 The box includes an HDMI cable (which is not needed as the device already has an HDMI output, but is provided in case the dongle's shape does not fit your TV's layout), a mini-to-normal USB adapter, and an A/C adapter. The A/C adapter is a nice addition, as older models such as the MK802 III did not include it, and that caused some confusion from some buyers who would end up under-powering their device.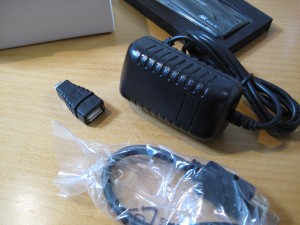 The MK802 IV is the definition of plug and play. It will actually start as soon as it gets plugged in to the A/C Adapter (don't forget to plug it with the HDMI into your TV too… some people seem to be confused with that and believe that the HDMI will actually power the device… that's not true, you need to plug both the A/C and the video output, obviously). Booting time is under a minute, although it felt to me it is a bit slower to start than the MK802 III.
Since it runs Android but has no touch screen, the MK802 IV needs you to provide some sort of input with a keyboard and/or a mouse. We've tested it successfully with the Logitech K400 which is a great compact (but still useable)  keyboard with an integrated touchpad, and with Rikomagic's own MK702 II, an "air mouse" with integrated keyboard, which also worked extremely well and was a great experience (our review coming soon!)
Upon startup, no surprise here for people who know Android or who have used an android Mini PC before. The main screen shows up nicely on your HD TV, with icons for the Browser, the Google Play Store, the device Settings, and a "file explorer" that you will most likely want to replace with the better "ES Explorer" from the google market.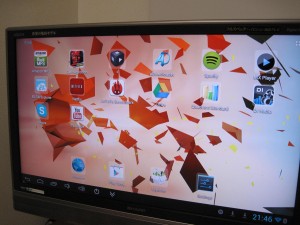 After a jump in the settings to connect to your Wifi router (the MK802 IV will also accept Ethernet cables through USB adapters such as this one), you'll want to install a few essential apps to make the most out of your new Smart TV.
Video
Youtube is a no brainer for these Mini PCs, and the first app we tried. It worked flawlessly (on firmware 4.1. On firmware 4.2 however, the wifi issues mentioned above made youtube almost impossible to use, with insane buffering times), playing videos in HD without a problem for us. No big difference here compared to the MK802 III, but a gigantic improvement if you've ever tried Youtube on single core devices such as the original mk802 or the raspberry Pi.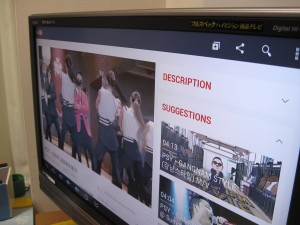 MX Player is, as before, the best video player we've found out there for the MK802 IV, although, to our surprise, the hardware mode felt not as good as on the MK802 III. People have been reporting a bit of stutter on HD videos, issue that we did not notice in our tests.
XBMC does work on this device, but it will require some sweat on your end. First, you'll need to update the device's firmware to Android 4.2 (it originally ships with 4.1) otherwise XBMC will crash on you. Updating the MK802 IV is quite a painful process, and we'll try to have a nice how-to available in the days to come. Second, for optimal performance, you'll need a custom Android build for XBMC, which uses the great library management functionality of XBMC with the hardware acceleration of MX Player. The "original" XBMC for Android will work (again, assuming you updated to Android 4.2), but without hardware acceleration, HD videos would be a "no go". The XBMC + MX Player combination however works perfectly, and we'll have a tutorial up for that pretty soon.
The Latest version of Netflix for Android works perfectly fine on the MK802 IV (on firmware 4.1. On firmware 4.2, strange graphic glitches started to appear, and Wifi issues prevented us from watching anything in good conditions). People who live outside of the US and want to access Netflix can do so by following the same tutorial we gave for the MK802 III: how to watch Netflix from outside the US on any Android device.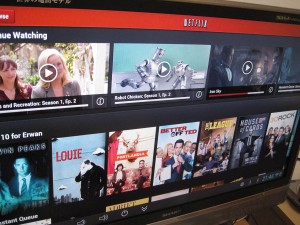 Music
Applications such as Cubed (a music player with a nice a design), Amazon MP3, or Spotify work out of the box for your music player. Cubed really wins the design contest here, but I also like the fact that Amazon MP3 lets me play my music from the cloud… for spotify, people living outside of the US might want to try Unblock-US to access the service from any country.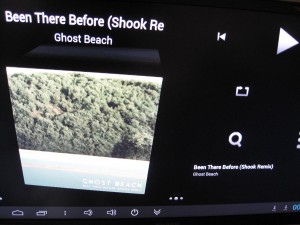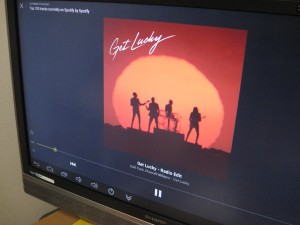 Games
Games might be where the MK802 IV makes a difference with the previous MK802 Generation, but so far we only tested Carmageddon for Android, for a few minutes. The game ran smoothly, but I wouldn't expect less as the game runs reasonably well on much older Android devices.
Lots of people use the MK802 IV for retro gaming as well, but we didn't test this. Knowing that it worked well on the original MK802, I am confident retro gaming will work fine with this device.
Other apps and performance
When we tried Antutu and Quadrant benchmarks on the initial firmware for the MK802 IV, they crashed on us and we couldn't get any result. Updating to firmware 4.2 fixed the issues with Quandrant (not with antutu) and the performance results are below.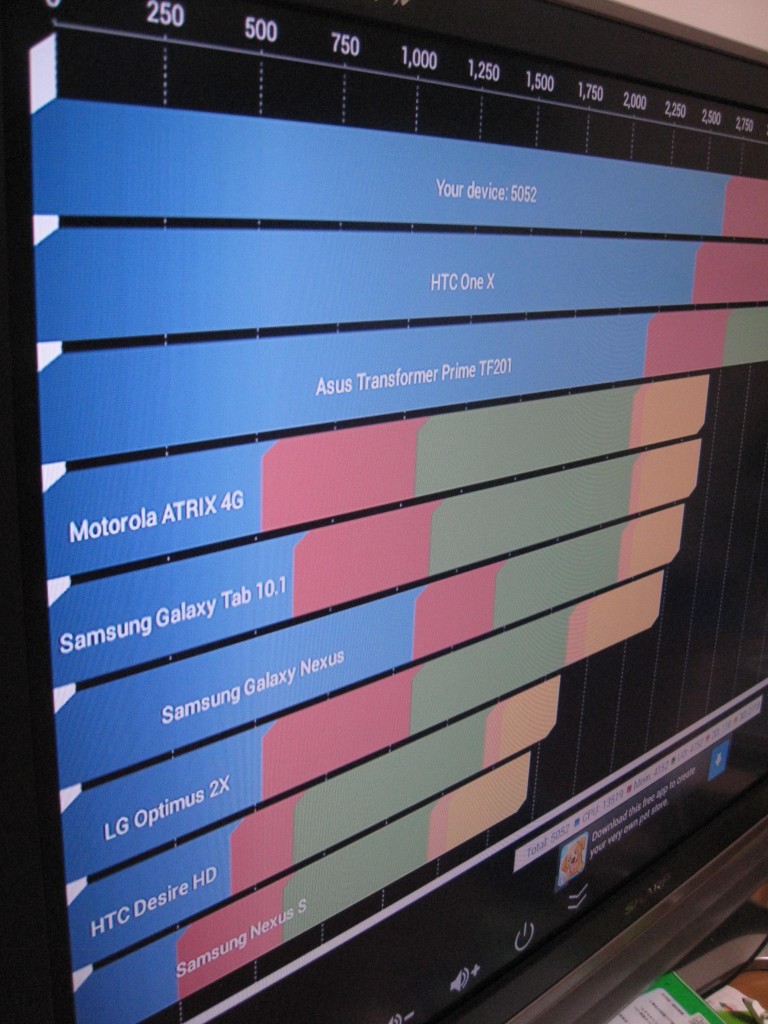 Downloading through bittorrent with application ADownloader worked like a charm (not on firmware 4.2 because of the wifi issues), and we also used the device as an FTP server for the house using an app named Andreas Liebig's FTPServer. We recommend both apps for the MK802 IV.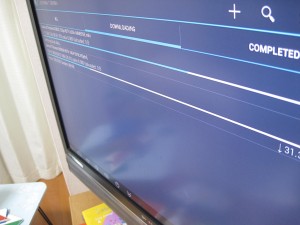 Power and heat
In our tests, the MK802 IV runs perfectly fine with 5V and 1.2A, although it is recommended to use the provided adapter which outputs 2A as soon as you want to plug more than just a keyboard/mouse or air mouse to the device. For example if you plan on using a usb-powered hard drive like this one, 2A will be needed. Which is ok, it still means the MK802 IV running for 1week will use less power than your air conditioning running for 1 hour! We're talking of a device here that uses less power than your computer in sleep mode.
When doing heavy use of the device's CPU, we found it to be heating quite a lot. Not to a "burning" level, but noticeably hotter than the MK802 III. Even when doing nothing, or when being powered by the same 1.2A Adapter as our MK802 III, the MK802 IV was warm, to a point where I might not be confident living it on while I'm away, which was not a problem at all with the MK802 III. On that point it feels this is a bad point for the MK802 IV.
Accessories
We successfully used the following accessories with the MK802 IV:
MK802 III vs MK802 IV
Here is a quick summary of the pros and cons of the MK802 IV, when compared to the MK802 III
Pros of the MK802 IV:
XBMC Support
Blutooth support (although the MK802 IIIs has it)
Cons
Heat issues
Firmware update process is painful compared to the MK802 III
Huge Wifi problems with Firmware 4.2
Conclusion
The MK802 IV, out of the box, runs Android 4.1, and is an ok device, but nothing that impressed us compared to its older brother the MK802 III. After an update to Android 4.2, added support for XBMC and for usb headsets/microphones could have made it a killer mini PC. Sadly that update shipped with Wifi bugs that make the device purely useless.
Hopefully, Rikomagic will soon release a firmware upgrade that fixes the wifi issues, the only (big) problem preventing this from being the best MK802 ever. In the meantime though, we can't recommend the MK802 IV, and suggest that you get a MK802 III , or MK802 IIIs instead, which are almost half the price today, and seem much more stable to us. You can read our review of the MK802 III here.
Disclaimer: MakeSmartTV.net is a participant in the Amazon Services LLC Associates Program, an affiliate advertising program designed to provide a means for sites to earn advertising fees by advertising and linking to Amazon.com