Around the same time last year I wrote a suggestions of 10 "must-have" apps for Android Smart TV  (a.k.a Android dongles used to make your TV a smart TV – that includes the MK802 III which we reviewed here). The article was extremely popular, and, although the suggestions are still valid, I feel like it is time for a refresh. Some of these apps have been updated, Android itself has been updated and made some apps irrelevant, or, as is often the case, I have found more useful apps through my daily use of my Smart TV.
Unless specified otherwise, all the apps below can be found on the google play store
1. Netflix
The Netflix App is a necessary App if you want to watch Netflix on your HD TV with your droid mini pc or your droid stick. Although Netflix is only available ion a few countries, check our article on how you can easily watch Netflix outside of the US!  Nowadays, your TV is not smart unless it has Netflix access

There used to be compatibility issues with Netflix on some Android Smart TVs, but as far as we can tell, these issues have been solved with the latest Netflix versions. If you run into any issues with Netflix on your Android device, give a try to an older version which has the reputation of having the highest compatibility, Netflix 1.8.1:  The APK for Netflix 1.8.1 can be downloaded here.
2. Youtube
Just like Netflix mentioned above, Youtube is one of the apps that can't be missing from your Android Smart TV. You can't expect to make a good smart TV without this app 🙂
Depending on your model of android smart TV, you might have issues with the latest version of the Youtube App. If you do, try and get an older version of the Youtube apk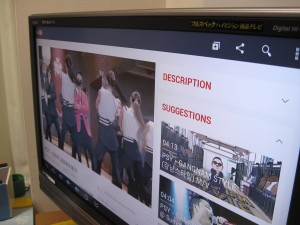 3. MX Player
MX Player is hands down the best movie player we've used on our droid HDTV stick. And trust me when I say we've tried lots of them. BS player, VLC, the default player installed on the device,… MX Player is still the one we'd recommend to everyone. It was working great on a lowend Android stick with a single core 1GHz CPU (the MK802), and it works great on any of the dual or quad core sticks today. MX Player's advantage: it allows you to switch between hardware and software rendering mode for both video and audio stream, independently. More than once, MX Player was able to play smoothly a video that no other player would play correctly, and that was simply done by switching Audio or video from Hardware to software rendering, or vice versa, depending on the case.
Although the MX Player engine is great, its interface could be improved. Mods exist that allow you to use the MX Player rendering engine, with the XMBC interface. Which is why our next item is…
4. XBMC
XBMC is the definitive Video Library for many devices. Its Android version has come a long way since last year and now supports hardware acceleration. For some Android devices though, Hardware acceleration is not working correctly. In that case, it is possible to use XBMC with an external player such as MX Player. XBMC acts as your (gorgeous) video manager, while using MX Player for the actual video playback. This is not without issues but works relatively smoothly, and it's worth it: XBMC just looks awesome on your TV.
I explain the full procedure to get XBMC and MX Player to work together here. It boils down to downloading a patched version of XBMC I created a few months ago which can be downloaded here (note: at the time of this writing, my patch is now included in XBMC and available in the nightly/monthly builds)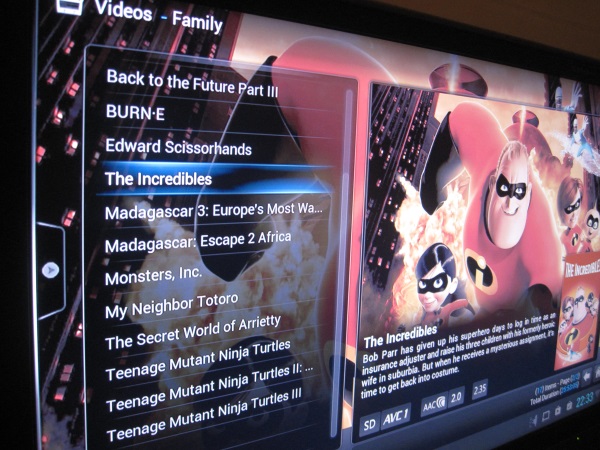 5. Amazon MP3
There are many MP3 players for Android and you probably already have your favorite. As a long time Amazon customer, I appreciate the Free 5GB of storage I get for my music online, not counting all the free storage for MP3s bought directly from Amazon. The interface is fairly easy to navigate. I wish I could say XBMC is my application of choice for music, sadly XBMC's poor handling of ID3 tags makes it a no go for me, and I prefer to use Amazon MP3, again mostly for its seamless integration with the cloud.
6. ES File Explorer
At some point you will want to manage your files on the device. Swap some files between your internal storage and your 32GB micro SD, or simply edit or delete files. ES File Explorer is the swiss army knife for that, and does everything pretty well, including an integrated way to give you access (or prevent it) to the root-only folders. Extremely convenient if you run into a situation where you have to edit system files (not that this happens everyday mind you).
An extremely useful tool, and other ones that we tried such as "Astro", or the already-included File explorer on some Android Smart TV were no competition for ES Explorer.
7. ADownloader New (but old)
ADownloader is a bittorrent client for Android. P2p downloading is an efficient and fast way to exchange files, in particular huge media files, and ADownloader New is the best p2p app we've found to use on your smart TV. In particular, you'll appreciate its automated IP blacklist system, as well as the fact that search is directly integrated with the most popular bittorrent search engines.
Unfortunately some new rules in the google play store forced the authors of ADownloader to remove that integration, and the latest versions of this app are therefore not as interesting as the old one. Therefore, the version we recommend is version 1.1.0.1, which can be downloaded here: ADownloader 1.1.0.1 Download. Make sure to deactivate automatic updates for this app!
8. FTP Server (by Olive Tree Software)
You might want to use an FTP Server on your Smart TV box to use the box as a central "hard drive" for your family. For me, because our box is very low consumption and connected to a big hard drive, it makes it the ideal storage solution, hence the FTP Server.
Just like MP3 Players, there are dozens of FTP servers available on Android. However I have found it very hard to get one that works consistently and offers the basic features and low maintenance. The FTP Server I used to recommend last year was 100% free, but somehow stopped working entirely for me one day. I replaced it with the Free (ad supported) version of "FTP Server", an app from Olive Tree Software. This FTP server is extremely simple to configure, and stay up and running even if you use other applications (that sounds obvious, but some FTP Servers on Android just automatically close as soon as you switch applications… which makes them very impractical). In other words, start it once and forget about it, and your entire household can then upload/download movies, music and picture to it. Very convenient!
9. Cheapcast
The Chromecast is a tiny google device that basically makes your TV a smart TV. It is extremely convenient because of an integrated protocol that lets you control youtube, Netflix, etc… directly from your phone; but Chromecast is extremely limited compared to other Android Smart TVs.
Cheapcast is so great we have a full review of it on this site. Cheapcast transforms any Android smart TV into a Chromecast, letting you get the benefits of Chromecast on your existing device, without the bad part of it. It is extremely difficult to describe, just give it a try yourself. As an example, you can browse youtube as you would usually do on your phone, and send a video directly to play on your TV whenever you want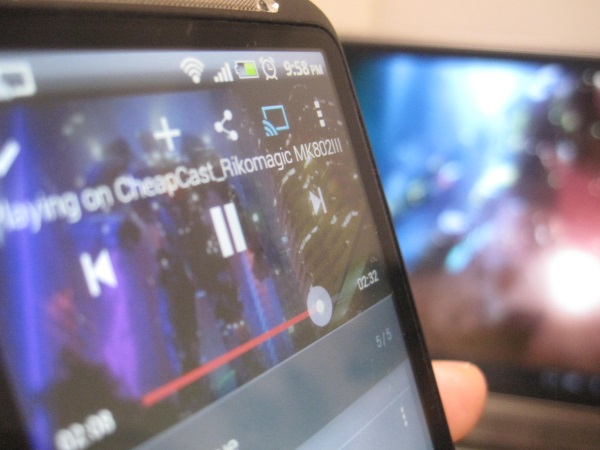 10. (sorry, had to remove)
Apologies, we had to remove the last app in order to comply with our advertising partners policy
Your suggestions?
How about you, what apps are you running on your Android smart TV, that you would recommend to other users?