How to make your TV a smart TV
You bought a great HD TV a few years ago, but maybe you're like me, and you don't actually watch TV. I've been connecting my computer to my TV for as long as I can remember (back in the days I used one of the few graphics cards that allowed to output to composite and S-video), and I've used it to turn my Television into a smart TV, in order to watch youtube, Netflix, etc…
But after a while, I realized that a computer might not be the best approach for that: computers are quite expensive and/or noisy, they do much more than you'd like a Smart TV to do, they use lots of electricity, and turning them on and off takes too long. So for the past few months, I've been looking for a better solution.
Too bored to read the entire article? Check our tutorials here, and hardware reviews here
The problem
Regular TV sucks. I want to be able to watch my digital movies, youtube, Netflix, read email and browse my favorite websites from my couch, using my big TV screen. What is the most convenient way to do this?
The solutions
Below I am quickly investigating a few generic solutions that allow to make a smart TV out of a dumb TV. Of course, I can't summarize the full content of this website in one post, but below I'll quickly introduce the solutions I've tried. All of them have their pros and cons, for more details on each solution, well, browse the site and enjoy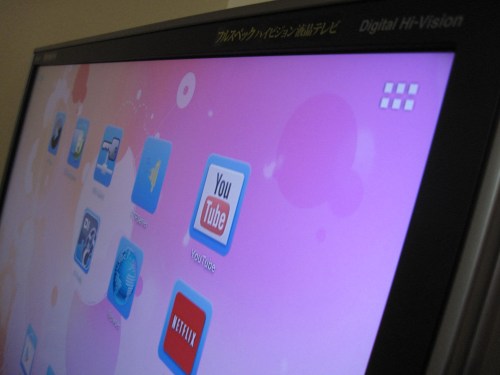 Plug a computer to your TV: Most TVs have a VGA entry port, and if they don't, most computers have an HDMI output port nowadays. The big advantage of this solution is that nothing will beat a PC in terms of performance. You'll be able to play high quality games, as well as watch all movie formats. Some issues with using computers as your smart TV are the power consumption, the price, and the noise.  Laptops, ultrabooks, or solutions such as the macbook air will minimize the energy consumption as well as the noise, but are relatively expensive if your only goal is to do some basic multimedia. They also take some time to boot, and when it comes to TV, you want things to work immediately.
Plug a tablet to your TV: Tablets come at reasonable price, have a relatively low power consumption, and most of them can be plugged to an HDMI port on your TV. Controlling the tablet from your couch might become a problem though. Also, since I like to optimize power usage, I am not very happy with the tablet solution since the screen might be constantly ON and I don't need that
Buy an actual smart TV: This is probably the most expensive and the less "long term" solution in my opinion. Remember when you bought that 3D Television, or that DivX DVD player? Yeah… well, you don't want to make the same mistake again. These embedded TVs promise to keep up to date with firmwares updates, but their functionality is fairly limited, and there's always one or 2 things you want them to do that they won't do for you. For my personal example, the "smart" TVs I've seen in store in Japan don't have Netflix support, because netflix is not officially available in Japan… (we have ways to bypass these Netflix limitations, but if the TV does not have the app in the first place, you're screwed)
Use your videogame console: The XBox 360, the PS3, and the Wii U all have fairly decent multimedia functionality. In particular the PS3, with its Blu-Ray support, Netflix and Amazon instant video, is an interesting approach. The Wii U also seems to be headed towards being a multimedia device, and it's definitely something we will discuss. Spoiler alert: I believe the Blu Ray format is dead, and video game consoles, just like computers, use more power than they're worth if your goal is not to play high end video games.
related:  how to watch Netflix from outside the US on your PS3
Use a dedicated, cheap box or dongle that will connect to your TV and make it a smart TV: After using the "computer" solution for years, and the "PS3″ solution a bit lately, getting a dedicated dongle is the solution I came up with. There are *lots* of solutions in this area. People who want some brand name might want to go with the Apple TV (although it is extremely limited, and what you probably want is actually a jailbroken one, but these are quite expensive on eBay). There really is lots of choice, and it is difficult to make a good decision. I've personally been using The MK802 III these days and I really recommend it (see my review here), but let me state the obvious: what you need depends on your goals with the smart TV.
related: MK802 III review
That's the gist of existing solutions. This site will be investigating most of them, and try to help you with choosing the best way to turn your TV into a smart TV. As I've said above, there are many valid solutions, and the "perfect" solution depends on what you are looking for. As far as I'm concerned, I've found a solution that cost me less than $100 total (including accessories), and unless you are looking for advanced gaming functionality, I strongly suggest to aim for $200 or less. But hey, stay tuned on this site, we'll investigate many solutions, including more expensive ones